1
« on: January 04, 2021, 10:30 »
Q: What is it?
A: Program written in Java which serves as the linker for interface images and text. It's not an image editor.
Q: Which version is actual?
A: Actual version is
1.0 - GOTHS
.
This is BETA1 Release.
Q: What's required to run it?
A: Java 1.8 (or later) is required.
Q: If it's in Java what technology or libraries is this based on?
A: Java OpenGL Library abbreviated as JOGL.
Q: What's the purpose of this program?
A: This program has purpose to build and edit the interface similar to the one in the game (to the some extent). You're only modifying the default.ini of it.
Q: How do I get to the game files?
A: After downloading the client, in data folder are located all the ingame files apart from fallout.dat. Target directory is art > intrface where default.ini is.
Q: What FOnline Engines are supported?
A: Designated primarily for FOnline2 but can be modified and distributed with FOnline Reloaded and other FOnlines.
Q: How do I use this?
A: Once you download the program in the menu "Info > How to use" you will get instructions how to use.
Briefly, I can say is you can do many things with this one apart from editing images.
Q: Who's involved in making of this?
A: Solely I. For now. But I may recruit someone to help me with these.
Q: What's the deal about license and this program, is it free?
A: Absolutely it's free. And it's Open Source. You're welcome to make it even better. Licenced under General Public License v3.0.
Program download:
https://www.mediafire.com/file/uk8niwtr0zkn3tv/FO2_INTRFACE_EDITOR_GOTHS_BIN.zip/file
Source code repo:
https://github.com/ErmacMKIII/FO2_INTRFACE_EDITOR
Screenshots (click on the image to open it in new tab):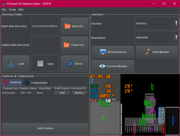 Youtube demonstration videos: